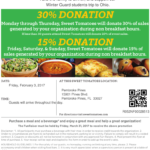 We have another fundraising event scheduled for Friday February 3rd to support the Winter Guard trip to Ohio.
Please join us at Sweet Tomatoes located at 15901 Pines Blvd, Pembroke Pines, FL 33027.
We need at least 50 people to attend this event. They will give back 15 % of the proceeds to the Winter Guard program.
Please remember to show the flyer.
We look forward to seeing you there!